Used Degaussers
Buy a Used Degausser and Save Up to 50%
In today's financially cautious times, not all organizations have the budget or the volume of media to justify purchasing new degaussing equipment – especially when most degaussers that are available as new units can also be purchased as remanufactured or used degaussers from reputable companies. This provides the consumer with greater flexibility in both the cost and choice of equipment. Thus, users can save up to 50% or more in total costs if they purchase a completely remanufactured degausser. These remanufactured degaussers usually carry a new machine warranty to guarantee quality.
Will a Used Degausser Work as Well as a New Degausser?
Before you purchase a used degausser, it is prudent to know where the unit came from and what responsibility the seller takes in its return policy and warranty.
Some used degaussers are retired rental equipment. Many companies that sell new degaussing equipment also have large rental portfolios of equipment. Some degaussers may have only been rented a few times before being resold as a used unit – so, in this case, the customer would be getting a great deal on a machine that's practically new.
Sometimes dealers buy bulk computer and industrial equipment at auction and then resell it at a profit. Many degaussers found on eBay or other online auction sites would fall into this category. In this event, the dealer likely may not even know what a degausser is or if the equipment was in good working order when purchased. Reputable new equipment resellers will often purchase such discounted equipment and then send it back to the manufacturer for a complete overhaul, to make sure the equipment is in "like new" condition before then reselling it as a "remanufactured" unit. If you choose to get used degaussing equipment from an individual or used equipment supplier online, identify the previous ownership and usage of the unit and whether it was returned to the original manufacturer for complete refurbishment before resale.
Does the unit come "as-is" final sale, or does it come with a warranty? Nearly all equipment purchased from a reputable reseller will come with a new machine warranty, oftentimes providing depot repair. This means if there is a problem with the degausser, you will pay to ship it to the factory, where they will fix it and then pay the freight cost to ship it back to you. Some retailers even provide an 'even swap' warranty, where if your used degausser has a technical problem, they will immediately replace it with another used or remanufactured degausser of the same model. This type of exchange warranty replacement saves the company time and money because they don't have to wait three or four weeks for their degausser between shipping and repair time at the factory.
Many degaussers are very heavy and can easily be damaged in shipment if not packaged properly. Make sure the seller plans to package the unit properly for shipment and be sure to have shipping insurance on the degausser just in case it is damaged in shipping.
What Do I Look for When Buying a Used Degausser?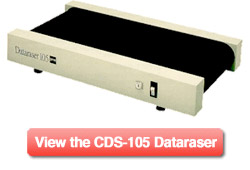 The criteria for selecting a remanufactured degausser is similar to the criteria one uses for purchasing a brand new degausser. These include the volume and type of computer tape or hard drives to be erased, security rating, deployability, warranty and budget.
Does the degausser need to be shared between various offices within the same company? If the media is not consolidated in one location and your company requires a more portable degaussing solution, then a degausser that comes packed in a hard shipping and transportation case with attached wheels would be the ideal choice. This permits the machine to be wheeled to the degaussing location or for the machine to be shared with other company locations.
Media volume is a primary concern in selecting the appropriate used degausser. Does your company need to erase 100 drives or 1,000 drives? A manual table-top degausser might be ideal for the company with a smaller amount of media to erase, but with a larger quantity of media, a conveyor unit or input slide degausser will end up saving your company time and money.
Make sure you purchase the right type of used degausser for your media. Everyone is cost conscious, however don't be penny wise and pound foolish and try to get away with buying the most inexpensive used degausser to erase the newest hard drive on the market. A $70 hand-held degausser that was designed to erase VHS tape does exactly that – it erases analog video tape – and not digital video tape or hard drives. Do the research necessary to find out exactly what type of equipment is needed to erase your media. If you have any questions, don't feel shy about speaking with a knowledgeable sales representative. That's what they're there for – to help you.
If you're looking to buy a used government certified degausser, it would be prudent to inquire if the degausser has a current NSA certification or if it needs to be recertified. Many older designs of NSA-approved degaussers require annual recertification, and if the degausser hasn't been recertified within the year, the degausser will need to be recertified in order to maintain its NSA approval. Recertification involves erasing a tape on the unit and then mailing that tape back to the manufacturer so they can guarantee that the tape is being erased to stringent NSA specification. This generally requires an additional cost on the part of the user.
As addressed above, before you buy a used degausser, be sure to inquire about the company's return policy and specifics of the warranty. It would be both a waste of time and money to purchase a used degausser only to later discover that it doesn't power up, doesn't work properly, isn't strong enough, doesn't erase your media, and you can't return it.
And remember, if you are erasing PC hard drives, if you need to reuse, recycle or redeploy the drives, then you will need to rent a hard drive eraser and not a degausser. Degaussing a hard drive renders it inoperable. Used hard drive erasers are available that will suit your company's budget and data security needs.
Selling a Used Degausser
Some degaussing equipment distributors will buy used equipment because these machines can be completely remanufactured and introduced into their rental or used equipment portfolios. Additionally, some companies will acquire previous generation equipment as a trade-in toward the purchase of newer, more current high technology data security equipment.
As hard disk drives and computer tape continue to increase in oersted rating, the power required in the degausser must be increased. Many older degaussers are not powerful enough to erase the newest perpendicular recording hard disk drives or the new LTO magnetic tape cartridges. Users will often be delighted to learn that the trade-in value of older equipment can be quite high with distributors who can reuse this equipment for rental or spare parts requirements. Be sure to ask your degausser supplier for a quotation on your older trade-in equipment.